Tokyo, May 23, 2016 - NEC Corporation (NEC; TSE: 6701) today announced the development of a Device-to-Device communication technology that enables emergency response personnel, such as police and firefighters, to transmit high quality images from the scene of a disaster or accident when outside of the service area of the public safety Long Term Evolution (Public Safety LTE: PS-LTE) network.

Images are essential to enabling authorities to make swift and accurate assessments in response to large-scale disasters and in the provision of security for major events.

NEC's newly developed technology supports the reliable transmission of these images by enabling terminals outside of the PS-LTE network service area to detect terminals within the service area, and then access the network via the terminal that provides the fastest communication with base stations.

NEC confirmed the performance of this technology in a simulated disaster relief scenario, where approximately 90% of terminals located indoors, which tend to fall outside of the service area, achieved communications sufficient for the transmission of images.

"By utilizing this technology, images from large-scale disasters and major accidents can be transmitted via a high-speed LTE network, even when outside of the public safety LTE service area. This makes it possible to obtain accurate information from the scene and to implement a swift response," said Yuichi Nakamura, General Manager, System Platform Research Laboratories, NEC Corporation. "We believe this technology can contribute substantially to the development of secure and safe infrastructure that reliably supports society."

In LTE networks, if a terminal falls outside of its service area, other terminals may act as relay stations between the isolated terminal and connected base stations. However, when selecting a relay terminal it has conventionally been difficult to detect the communication route (relay link) that enables the highest quality images.

NEC's new technology was developed using the Relay Link Throughput Estimation Method, which estimates communication throughput based on the quality of wireless communications, taking into account the differences in the resources available for wireless communications as well as modulation/coding schemes, and then integrates the relay link. With this technology, the communications speed from an isolated terminal cooperating with a relay terminal to connect to a base station can fully be estimated, and the "total communication speed" can be more accurately assessed.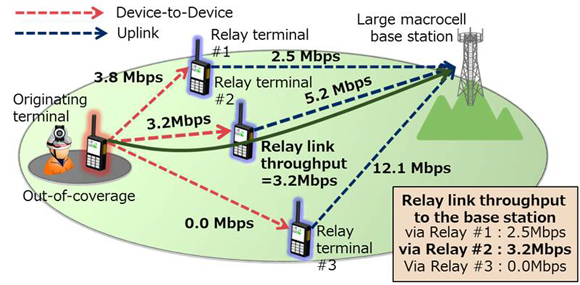 Communication route selection from a terminal outside of the communication area to a base station
The relay terminal estimates the upstream speed, and the terminal outside the service area estimates the speed of communications between the terminals. Based on this result, the throughput of the relay link (total communication speed from the terminal to the base station) is calculated, and a relay terminal capable of generating the highest speed is selected.

NEC presents this technology at Wireless Technology Park (WTP) 2016, held at Tokyo Big Sight from May 25 to 27. For more information on WTP 2016, please visit https://www.wt-park.com/eng/index.html.

This technology was developed as part of the Ministry of Internal Affairs and Communications' "Research and Development of Device-to-Device Communication Technology for High-reliability, Low-latency Network" program. NEC has been involved with this program since 2014.
***
About NEC Corporation
NEC Corporation is a leader in the integration of IT and network technologies that benefit businesses and people around the world. By providing a combination of products and solutions that cross utilize the company's experience and global resources, NEC's advanced technologies meet the complex and ever-changing needs of its customers. NEC brings more than 100 years of expertise in technological innovation to empower people, businesses and society. For more information, visit NEC at http://www.nec.com.
The NEC Group globally provides "Solutions for Society" that promote the safety, security, efficiency and equality of society. Under the company's corporate message of "Orchestrating a brighter world," NEC aims to help solve a wide range of challenging issues and to create new social value for the changing world of tomorrow. For more information, please visit
http://www.nec.com/en/global/about/solutionsforsociety/message.html.

NEC is a registered trademark of NEC Corporation. All Rights Reserved. Other product or service marks mentioned herein are the trademarks of their respective owners. ©2016 NEC Corporation.
NEC Press Contacts (Japan):
Seiichiro Toda
NEC Corporation
Joseph Jasper
NEC Corporation
NEC Asia Pacific
Masako Hirano
+65 6379 2570
+65 9018 6652