Tokyo, September 13, 2016 - NEC Corporation (NEC; TSE: 6701) today announced the global release of a new Express5800/A2000 Series of enterprise servers for Windows and Linux operating systems with the latest Intel(R) Xeon(R) Processor E7 v4 Family (up to 24 CPU cores), suitable for mission critical systems and processing Big Data.
"Armed with the latest CPU technology, the new server provides an approximate 20% performance increase in its 4 CPU server model. Moreover, in addition to maintaining the enhanced availability features of server components from the previous generation server, such as memory and I/O card, the new server offers a platform solution that is ideal for mission critical systems and big data processing," said Takashi Suzuki, Deputy General Manager, IT Platform Division, NEC Corporation.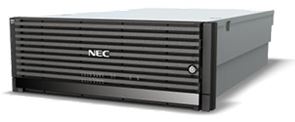 ***
About NEC Corporation
NEC Corporation is a leader in the integration of IT and network technologies that benefit businesses and people around the world. By providing a combination of products and solutions that cross utilize the company's experience and global resources, NEC's advanced technologies meet the complex and ever-changing needs of its customers. NEC brings more than 100 years of expertise in technological innovation to empower people, businesses and society. For more information, visit NEC at http://www.nec.com.

The NEC Group globally provides "Solutions for Society" that promote the safety, security, efficiency and equality of society. Under the company's corporate message of "Orchestrating a brighter world," NEC aims to help solve a wide range of challenging issues and to create new social value for the changing world of tomorrow. For more information, please visit
http://www.nec.com/en/global/about/vision/message.html

NEC is a registered trademark of NEC Corporation. All Rights Reserved. Other product or service marks mentioned herein are the trademarks of their respective owners. ©2016 NEC Corporation.
NEC Press Contacts (Japan):
Seiichiro Toda
NEC Corporation

+81-3-3798-6511

Joseph Jasper
NEC Corporation

+81-3-3798-6511
NEC Asia Pacific
Masako Hirano
+65-6379-2570
+65-9018-6652