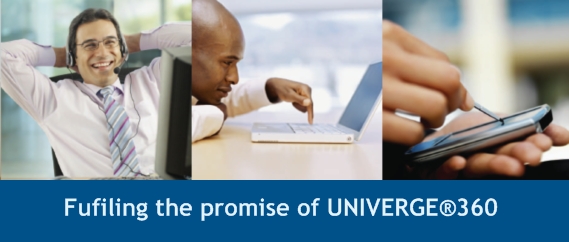 UNIVERGE SV8300
Business today demands efficient, seamless communication to enable rapid decision-making and customer responsiveness. NEC's UNIVERGE®360 is our approach to help small to medium-sized businesses succeed at this accelerated level by unifying all aspects of business communication. The UNIVERGE SV8300 Communications Server is an integral part of this initiative.

The SV8300 Communications Server is the ideal system for medium-sized businesses that wish to compete and grow their businesses over time. This robust, feature-rich solution is completely scalable and can be expanded to meet your communications needs both now and in the future.

Designed to be both versatile and scalable for your growing business needs, the SV8300 supports, IP, TDM video, wired or wireless. It also provides high-powered features and applications that can be transparently shared between branch or remote locations. Individuals, departments and locations can work more efficiently by using this feature to communicate seamlessly in real time.

The SV8300 also supports a wide variety of solutions from the SV8000 Series family of products, including:

Information
Benefits
Benefits of the SV8300 include:

Rack-stackable architecture
The SV8300's stackable chassis supports server functions, media gateways and media converters in a single unit.

Support for both VoIP and traditional voice
Deployment of a pure IP solution or any combination of IP and traditional circuit-switched technology is supported on a single SV8300 system.

Application integration
Applications are easily accessed through simple license activation.

Scalability
As your business grows, so do its communication needs. The SV8300 seamlessly scales to 2048 ports in a single system network image.
Features
UNIVERGE SV8300 FEATURES
Applications including Voicemail and UC for Enterprise
Scalability for the growing business
Support for VoIP and traditional voice
Enhanced centralized management
Increased productivity
Seamless networking 19" stackable chassis architecture
1152 IP stations
512 trunks