vRAN
Open vRAN
NEC Open Networks


NEC Open Networks
vRAN
Open vRAN
There are two vectors to disaggregating the Radio Access Networks (RAN).

One is the horizontal disaggregation of the network functions (RU/DU/CU) with open interfaces, defined as Open RAN. The other is the vertical disaggregation of hardware and software with virtualization technologies, or vRAN.
Both horizontal and vertical disaggregation combined is defined as Open vRAN, or an open and virtualized RAN. These dynamics will bring tremendous advantages to the CSPs, by opening doors to a diverse, innovative selection of products as well as enabling the implementation of a more scalable, intelligent and resilient network that can significantly increase the flexibility and efficiency of CSPs' deployments and operations.
5G will be used for a wide variety of use cases across multiple industries. The network topology and requirements such as throughput, latency and simultaneous connections will vary depending on each use case.
Open RAN enables the disaggregation and integration of the RAN components based on open specifications, allowing flexibility to combine best-of-breed components from a diversified supply chain to efficiently and effectively accommodate various use cases.
Increased responsibility for CSPs as well as new skill sets required to conduct network design, system integration and operations in a complicated multi-vendor environment.
Extreme, real-time coordination between interfaces required for operating effective multi-vendor network that assures carrier-grade, stable performance.
Efficient overall operation and lifecycle management of diversified components required to scale, heal and upgrade to consistently provide new features as needed.
Comprehensive skills on both physical and virtualized networks to fine-tune performance with the understanding of respective hardware and software characteristics.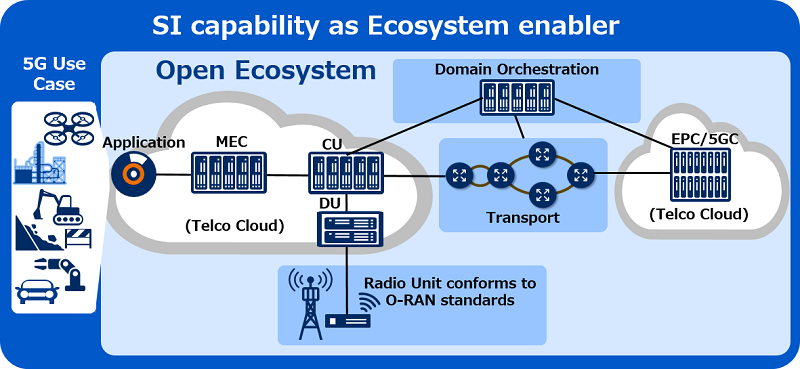 Our SI capability as Ecosystem Enabler
Since the goal of Open RAN/vRAN (hereafter referred as Open RAN) is to broaden the ecosystem of products and components from different vendors, the system integration role is critical to ensure all elements successfully interwork and perform as required.
As Open RAN matures and gains wider adoption, CSPs will be required to either take on more responsibility for their own solution integration, or rely on a systems integrator to provide such services. Given however, that such new talent with specific skill sets cannot be acquired in a day, system integrators are expected to play a key role for the success of Open RAN adoption.
NEC is uniquely positioned as a leading network product/solution provider as well as a system integrator that is engaged in all telecom domains from front-haul to back-haul, physical and virtual networks, network orchestration, to management and business layers.
As a company in possession of these end-to-end capabilities, extensive expertise and insightful understanding of Open RAN benefits, NEC is keen to help CSPs enable a rapid and seamless implementation and operation of Open RAN as an ecosystem enabler.
Netcracker Domain Orchestration
By opening up the RAN to multiple vendors and virtualizing the software across highly distributed edge nodes, costs will be reduced, highly dynamic services will be enabled and the RAN domain will experience far greater levels of innovation. However, these Open vRAN benefits can only be achieved with a new OSS environment that brings automation and agility to the RAN.
NEC's subsidiary Netcracker is a leader in 5G orchestration, operations automation and monetization. Netcracker's
Open vRAN Domain Orchestration (DO) solution brings together the orchestration, OSS and analytics functions needed to fully automate all aspects of the RAN domain from planning and design to activation, assurance and optimization. And with Netcracker's
Cross Domain Service Orchestration, together with its Domain Orchestration solutions, we can bring end-to-end operations automation across all domains including mobile, edge, core and transport.
NEC's rich experience and continuous commitment in delivering RAN solutions throughout the mobile network evolution, allowed to take the lead on 5G open architecture. Leveraging strong radio frequency expertise and telco system integration capabilities, NEC has turned into a key partner supporting CSPs to rethink mobile networks, explore new ways of deploying innovative services and develop new business models, influencing the future development of the telecoms industry.