Singapore, 28 August 2009 – With its new projectors NEC NP4100 and NP4100W, NEC Asia is increasing the range of applications for fixed-installation devices. Superior lamp durability as well as reduced energy consumption ensure an outstanding total cost of ownership (TCO). Both installation projectors have been designed to be freely tiltable, can also be installed vertically and feature a multitude of interfaces. This makes the NEC NP4100 and NP4100W ideally suited for presentations in large conference rooms, auditoriums or at the point of sale (PoS). Additionally, e-cinema or digital signage applications are possible.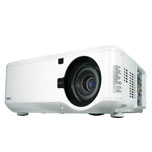 Whether deployed in companies, in the high-end education sector, or for suppliers of presentation systems, the NEC NP4100 and NP4100W guarantee bright projection at the highest level. Compared to the predecessor NP4000 and NP4001 models, the new, fully networkable installation projectors offer higher brightnesses of 6200 and 5500 ANSI lumens respectively, with the NP4100W offering a 16:10 widescreen projection format to support best possible imaging for video applications.

The innovative 2-lamp system with its 4-segment colour wheel supports particularly bright projections. Outstanding rendition of detail is ensured by the 2100:1 contrast ratio, as well as by DynamicBlack technology. In addition, both projectors have been equipped with an improved gamma table and a much wider colour space. Vibrant colours creating a luminous viewing experience for users are achieved via BrilliantColor technology, whose intensity can be additionally increased using the provided 6-segment colour wheel.

Apart from the improved technical features, NEC has also laid particular emphasis on higher economy and reduced energy consumption over the entire lifetime of the devices. In Eco mode the lamps now last a full 500 hours longer compared to the previous models. The new devices have also been specially designed so that the five optionally interchangeable lenses of the older models can be used with the new projectors as well. This allows users to replace their projectors in a more economical and cost-effective manner.

The Control ID function simplifies the management of multi-projector installations. More convenient handling is ensured by the OSD being available in 21 languages, alongside the ability of the devices to be freely tilted and the option for vertical positioning.


Availability, price and warranty
The NEC NP4100 and NEC NP4100W are now commercially available. Included in the package are mini D-Sub signal cable, a 6-segment colour wheel, an IR remote control unit, a protective lens cap, as well as a handbook CD and a quick setup guide. The projector is supplied with carrying handle for an easy transport. NEC Asia provides 2-year carry in warranty.



NP4100 Projector (without Lens) S$ 7,999.00

NP4100W Projector (without Lens) S$ 7,999.00

(price quoted include GST)

Further information can be found on the internet at http://www.nec-display.com/ap/


-End-

About NEC Asia Pte Ltd
NEC Asia, a wholly owned subsidiary of NEC Corporation based in Singapore, is a leading information technology services provider that specialises in systems integration and consultancy services. Being conferred the Singapore Economic Development Board's International Headquarters (IHQ) Award, NEC Asia, as NEC's regional headquarters in Asia Pacific, provides regional sales and services support for world-class identity solutions, turnkey implementation of mission-critical solutions, project management and maintenance services.
NEC's suite of solutions and services encompass systems integration, global identity solutions, RFID solutions, financial solutions, retail management solutions, enterprise servers, telecommunications and network solutions, multimedia products, managed services and outsourcing centre (MSOC), manufacturing business solutions, ERP, imaging and workflow solutions, enterprise portals and NECare Service Centre. NEC Asia also provides business support functions in purchasing, public relations, finance, human resources and corporate social responsibilities (CSR) to the regional NEC subsidiaries. For more information, please visit
www.nec.com.sg
---