SINGAPORE, 5 June 2009 – Four subsidiaries under NEC Corporation (HQ Japan) unite its people towards realizing an information society that is friendly to earth and humans.

Employees from NEC Asia Pte Ltd, NEC Electronics Singapore Pte. Ltd, NEC Semiconductors Singapore Pte. Ltd and NEC Tokin Singapore Pte. Ltd converge in Pasir Ris Park today to clean the mangrove habitat.

Held in conjunction with World Environment Day 2009, this activity falls under part of the NEC Group's Corporate Social Responsibility initiative known as Make-a-Difference Drive (MDD) activity. Through its MDD activities, NEC Group endeavors to involve its employees in various community and environmental activities to make a difference to the society as ONE NEC. This is in line with the World Environment Day's theme this year, i.e. "Your planet needs you – unite to combat climate change".

In 2008, the same four NEC Group companies gathered to plant over 100 mangrove saplings in Pasir Ris Park for their MDD activity in December. Today's mangrove clean-up will be a nice follow-up to the MDD 2008 activity for the NEC volunteer staff members.

"When we first went to Pasir Ris Mangrove Park to help plant the mangrove saplings, we saw a lot of garbage polluting the natural swamp. Our initial thoughts were that mangrove plants can help to create a healthier ecosystem in the mangrove park, but these garbage and pollution are threatening the healthy growth of the mangrove saplings which we planted that day. Hence we are coming back to clean up the park today", says Mr Makio Befu, MD of NEC Semiconductors.

Mr Befu adds, "It's nice to know that we're coming back to clean the same area where we planted the mangrove saplings. Some of the staff has great fun trying to recognize the baby trees which they planted 6 months ago".

The 40 staff volunteers collected 31 bags of rubbish from the mangrove parks which weigh 163kg in total.

The NEC CSR goals are guided by its corporate philosophy of "Nature, Education & Community: The Heart of NEC". These encompass meaningful community and environmental involvement where the people of NEC Group gather together to make a difference to the society.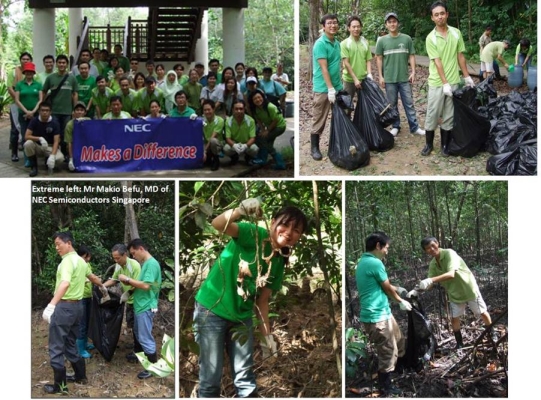 – end –

About NEC Corporation
NEC Corporation is one of the world's leading providers of Internet, broadband network and enterprise business solutions dedicated to meeting the specialized needs of its diverse and global base of customers. NEC delivers tailored solutions in the key fields of computer, networking and electron devices, by integrating its technical strengths in IT and networks, and by providing advanced semiconductor solutions through NEC Electronics Corporation. The NEC Group employs more than 150,000 people worldwide. For additional information, please visit the NEC home page at:
http://www.nec.com
About NEC Make-a-Difference Drive
NEC Corporation has promoted its global community involvement based on employee volunteerism since 1999 under the banner of "Nature, Education, Community: The Heart of NEC." More than 381,800 officers and employees at some 470 NEC locations worldwide have participated in NEC Make-a- Difference Day since 1999. In 2007 alone, about 3,000 MDD activities were executed successfully and participated by some 93,000 NEC employees. For more details, please visit
http://www.nec.co.jp/community/necmd/e/index.html
Media enquiries
Masako Hirano
NEC Asia Pte. Ltd.
+65 6379 2570
m-hirano@nec.com.sg
---