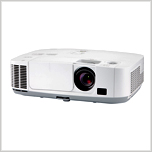 NEC P420X Projector
Singapore, 18 April 2011 – NEC Asia Pacific has today unveiled a new line of high-bright projectors. The P-series debuts with two models designed specifically for entry-grade installation environments such as corporate boardrooms and higher education classrooms.

In addition to high brightness, both the P420X and the P350W offer great picture performance paired with outstanding network connectivity and advanced Eco features help to lower operating and service costs. These new installation projectors also promise low installation cost thanks to innovative features such as Lens Shift and the wide zoom lens.

Furthermore, with a large 1.7x optical zoom, contrast ratio of 2000:1 and brightness levels of 4200 lumens (P420X) and 3500 lumens (P350W), these new projectors provide dynamic images under normal ambient lighting conditions. The P420X boasts a native resolution of 1024x768 (XGA) and the P350W supports 1280x800 (WXGA) providing a wide-screen format, ideal for presenting videos and enlarging presentations. Built-in software features include wall colour correction, test pattern, automatic keystone correction and Len shift for ease of installation.

Also, the built-in wireless access point allows a wireless connection in just seconds by using available WLAN option. Latest networking features, such as Windows Network Projector, Windows Remote Desktop, Image Express and Media Connect function, are designed to make wired or wireless picture transfer simple. Image Express Lite also enhances the setup experience with built-in cornerstone correction and even complete geometric correction possibility.

Furthermore, both projectors feature a range of display input options, including HDMI, S-video, RGB and RCA connectors, and both support the direct USB display feature when you can connect the projector and computer with a standard USB cable to easily project a computer screen images. The projectors also support the Viewer Function, which allows users to show converted Powerpoint files, PDF files, images or movies files directly from a USB memory or via network without any need of a presentation PC.

NEC's innovative ECO Mode technology means that the P-series projectors' lamp and filter life are extended up to 3500 hours, and the filter does not need to be changed until the lamp has reached its end of life. The active lens cover enables presenters to immediately mute the audio and video, as well as lowering the lamp brightness to 25 percent. Additionally, start-up takes under four seconds and direct power-off let users present and move on within seconds. The sum of these combined features equates a lower total cost of ownership and energy usage, which are calculated automatically by the integrated carbon savings meter.

"We have included features in this projector series that not only exceed the needs of education and corporate users but enhance the user experience with practical and easy-to-use functionality," says Vincent Koh, Vice President of Multimedia Product Group at NEC Asia Pacific. "The P-series provides users with everything they need from built-in technologies and extended connectivity to energy-saving features and advanced networking capabilities."

Availability, Price and Warranty
The NEC P350W and P420X projectors will be available starting in April 2011. The package supplied includes IR Remote Control, mini D-SUB signal cable, power cord, users manual on CD-ROM and quick setup guide. NEC Asia Pacific offers a two-year parts and labour warranty and the lamp is covered for six months or 500 hours, whichever comes first.
NP- P350W Projector S$ 2,299.00
NP- P420X Projector S$ 2,599.00

Further information can be found on the internet at http://www.nec-display.com/ap/
---
About NEC Corporation
NEC Corporation is a leader in the integration of IT and network technologies that benefit businesses and people around the world. By providing a combination of products and solutions that cross utilize the company's experience and global resources, NEC's advanced technologies meet the complex and ever-changing needs of its customers. NEC brings more than 100 years of expertise in technological innovation to empower people, businesses and society. For more information, visit NEC at http://www.nec.com.

About NEC Asia Pacific Pte Ltd (NEC APAC)
Singapore-based NEC Asia Pacific is the regional headquarters for NEC Corporation (HQ: Japan) in the Asia Pacific region (South and Southeast Asia, and Oceania). As a leading infocomm technology provider and systems integrator offering regional sales and services support and consultancy, NEC APAC develops solutions on carrier network, global identity, RFID, enterprise server, unified communications, multimedia display, and contact centre, as well as provides outsourcing and managed services.

To leverage on its technological expertise in the field of public safety, NEC APAC has established a regional competency centre (public safety) to expand its capabilities and expertise to support businesses in the Asia Pacific region.

In line with the NEC Group Vision to realize an information society friendly to humans and the earth, NEC also embarks on corporate social responsibilities (CSR) initiatives to support and "make a difference" to the Nature (environment), Education and Community. For more information, please visit www.nec.com.sg.

NEC is a registered trademark of NEC Corporation. All Rights Reserved. Other product or service marks mentioned herein are the trademarks of their respective owners. ©2011 NEC Corporation.