Indoor LED Modules for Professional-Grade Digital Signage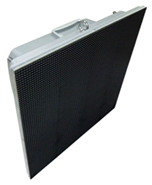 NEC LED-06AF1
Singapore, 9 November 2010 – NEC Asia Pacific, a leading provider of commercial LCD display and projector solutions, announced today the availability of its new LED modules for indoor video wall installations. The move into this segment enhances NEC's leading position in the professional-grade digital signage space. The LED-06AF1 indoor LED module is ideal for retail stores, shopping malls and broadcast studios. The LED module operate under the "true pixel" principle, by which each red, green and blue light-emitting diode forms one single pixel. This allows for better color depth and more accurate images, especially with a video processor that offers adaptive de-interlacing, frame rate conversion and low latency processing. Its control software allows for the auto mapping of pixel allocation and auto locating, ensuring each module receives the correct image quadrant.

"Delving deeper into the digital signage industry allows NEC to offer a product for virtually every application imaginable, and most importantly, a single point of contact for all types of display needs," said Vincent Koh, Vice President of Multimedia Platform Unit at NEC Asia Pacific. "The LED modules will be most useful to customers with large capacities and elevated audience quantities, such as transportation hubs, concert venues, sports facilities and shopping malls. Whether a permanent or mobile application, the indoor LED modules from NEC can deliver the utmost in brightness, image quality and ease in video wall setup."
The LED-06AF1 LED modules include the following features:
Professional-grade quality
2000- and 7500-NIT brightness
6mm and 15mm pixel pitch
3500:1 and 4500:1 contrast ratio
>800Hz refresh rate
DVI-D DualLink interface
14- and 16-bit color processing allows for the highest image quality
Nichia LED lamp creates the longest LED life available for a video wall
Auto video wall setup speeds up and eases the installation process by removing the hassle of predetermining the matrixing normally found in splitting the signal into its respective quadrant
Dot-to-dot correction to ensure high dot pitch accuracy
Industry-leading contrast using black LED and improved shader to reduce reflections
Dimming controls determine the brightness of each module
Front and rear ports for servicing needs
LED Wall Manager Control Software, wall mounting solution, cables, video distributor and processor are available
---
The indoor LED modules will be available from November 2010. The LED modules will be build-to-order with a 120-day lead time.

For more information, please contact multimedia@nec.com.sg.
---
About NEC Corporation
NEC Corporation is a leader in the integration of IT and network technologies that benefit businesses and people around the world. By providing a combination of products and solutions that cross utilize the company's experience and global resources, NEC's advanced technologies meet the complex and ever-changing needs of its customers. NEC brings more than 100 years of expertise in technological innovation to empower people, businesses and society. For more information, visit NEC at http://www.nec.com.

About NEC Asia Pacific Pte Ltd (NEC APAC)
Singapore-based NEC Asia Pacific is the regional headquarters for NEC Corporation (HQ: Japan) in the Asia Pacific region (South and Southeast Asia, and Oceania). As a leading infocomm technology provider and systems integrator offering regional sales and services support and consultancy, NEC APAC develops solutions on carrier network, global identity, RFID, enterprise server, unified communications, multimedia display, and contact centre, as well as provides outsourcing and managed services.

To leverage on its technological expertise in the field of public safety, NEC APAC has established a regional competency centre (public safety) to expand its capabilities and expertise to support businesses in the Asia Pacific region.

In line with the NEC Group Vision to realize an information society friendly to humans and the earth, NEC also embarks on corporate social responsibilities (CSR) initiatives to support and "make a difference" to the Nature (environment), Education and Community. For more information, please visit www.nec.com.sg

NEC is a registered trademark of NEC Corporation. All Rights Reserved. Other product or service marks mentioned herein are the trademarks of their respective owners. ©2010 NEC Corporation.