NEC companies progress to cleanup mangrove along Sungei Tampines at Pasir Ris Park

SINGAPORE, 21 December 2009 – NEC group of companies in Singapore congregated at the Pasir Ris Park to clean up the mangrove habitat at the Park and along Sungei Tampines on canoes and on foot last Friday, 18 December, for NEC's "Make-A-Difference Drive".

More than 50 staff from the five NEC companies based in Singapore – NEC Asia, NEC Electronics Singapore, NEC Logistics Singapore, NEC Semiconductors Singapore and NEC Tokin Singapore – participated in this event, which was supported by the National Parks Board (NParks), Public Utilities Board (PUB) and the People's Association Water-Venture.

Mangrove forests occur along the coast and the edges of rivers between the highest and lowest tide levels. Mangroves protect coastal areas from erosion, storm surge and tsunamis, and its massive root system is efficient at dissipating wave energy, slowing down tidal water so that its sediment is deposited as the tide comes in, leaving all except fine particles when the tide ebbs. Because of the uniqueness of mangrove ecosystems and the protection against erosion that they provide, they are often the object of conservation programmes.

19 NEC staff, including chief executives, went on 10 canoes and paddled along the coastline of Pasir Ris park to Sungei Tampines to pick up the rubbish trapped in the mangrove habitat along the riverbank which are typically inaccessible by foot, while more than 30 staff waddled in rubber boots onto muddy grounds to pick up litter trapped in the mangroves.

As a result of this hour-long activity, NEC staff collected a total of 36 bags of rubbish weighing 220.5kg (29 bags of rubbish weighing 200kg on land, and seven bags of rubbish weighing 20.5kg while on canoes), breaking its previous record of 31 bags of 163kg from the cleanup activity conducted earlier in June this year.

This land-and-coastal cleanup activity is a subsequent follow up to NEC's planting of mangrove saplings in Pasir Ris Park last December. As part of NEC's global corporate social responsibility (CSR) programme themed "Make-A-Difference Drive", NEC employees come together for a day to "make a difference" to the Nature (environment), Education or Community in the respective country they operate in. Since 2007, NEC group of companies and their staff have planted more than 100 trees in Southern Ridges at Telok Blangah Hill Park, planted 100 mangrove saplings in Pasir Ris Park in 2008, and cleaned up the same mangrove habitat in June this year.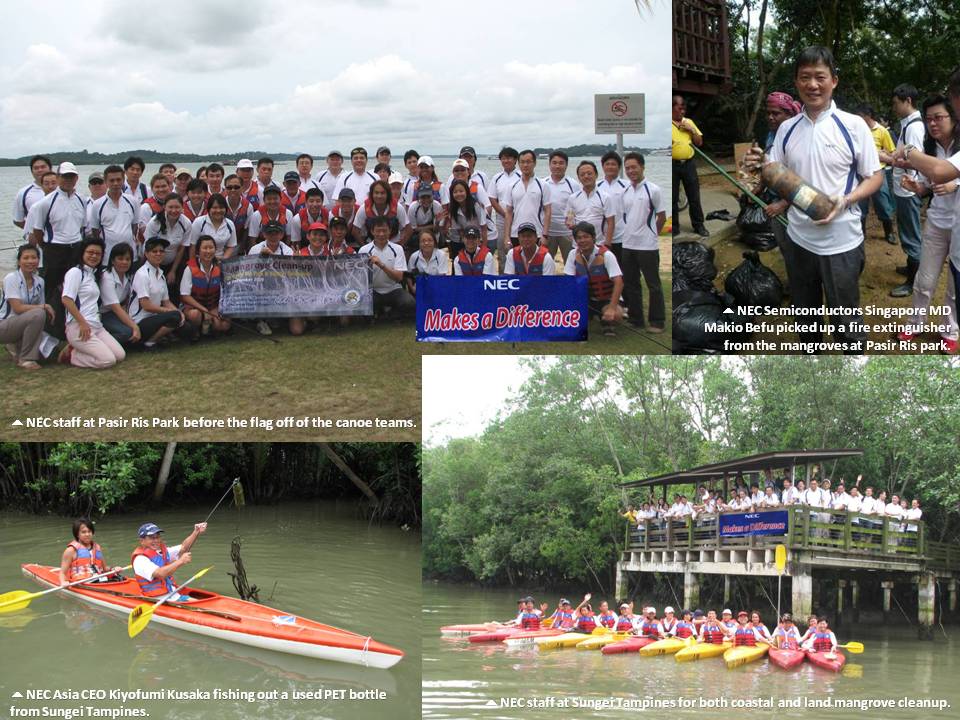 ‐ End ‐

About NEC Corporation
NEC Corporation is one of the world's leading providers of Internet, broadband network and enterprise business solutions dedicated to meeting the specialized needs of a diversified global base of customers. NEC delivers tailored solutions in the key fields of computer, networking and electron devices, by integrating its technical strengths in IT and Networks, and by providing advanced semiconductor solutions through NEC Electronics Corporation. The NEC Group employs more than 150,000 people worldwide. For additional information, please visit the NEC website at: http://www.nec.com.

About NEC Make-a-Difference Drive
NEC Corporation has promoted its global community involvement based on employee volunteerism since 1999 under the banner of "Nature, Education, Community: The Heart of NEC." More than 381,800 officers and employees at some 470 NEC locations worldwide have participated in NEC Make a Difference Day since 1999. For more details, please visit http://www.nec.co.jp/community/necmd/e/index.html

NEC is a registered trademark of NEC Corporation. All Rights Reserved. Other product or service marks mentioned herein are the trademarks of their respective owners. ©2009 NEC Corporation.