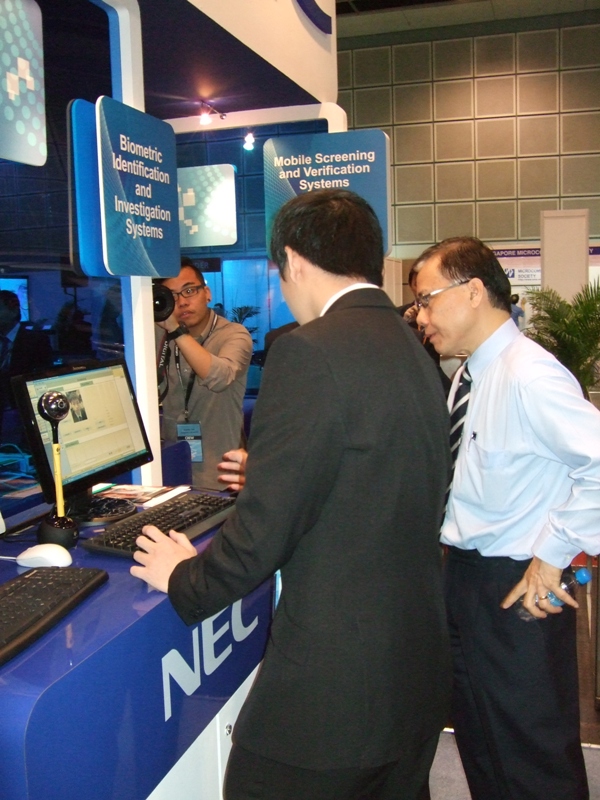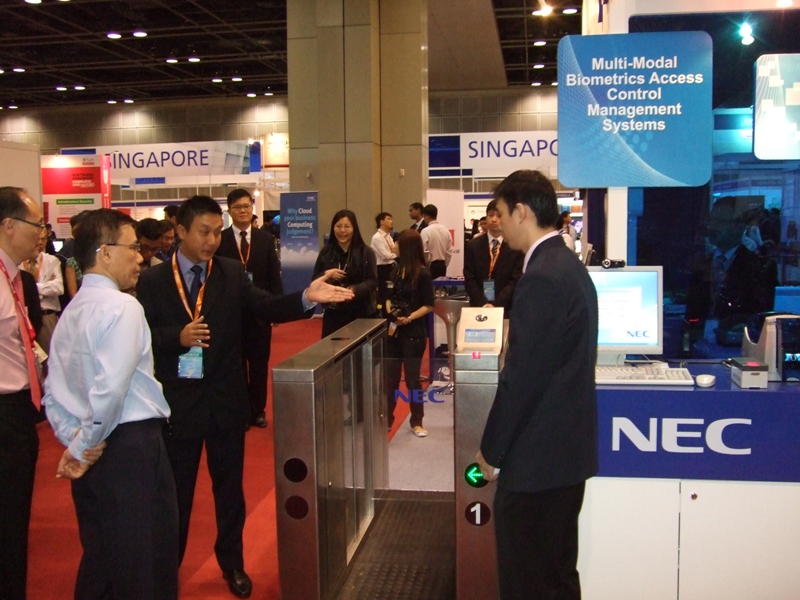 Associate Professor Ho Peng Kee (Senior Minister of State for Law and Home Affairs) watching the demonstrations at the NEC exhibition booth earlier today.
---
SINGAPORE, 28 September 2010 – NEC Asia Pacific ("NEC APAC"), a leading IT and network solutions provider and systems integrator based in Singapore, and a wholly owned subsidiary of NEC Corporation ("NEC"; HQ: Japan) is participating in the GovernmentWare 2010, an annual IT security event organized by the Singapore Ministry of Home Affairs (MHA), held at the Suntec International Convention & Exhibition Centre (Hall 401, Booth D16), from 28 - 30 September 2010.

Focusing on the theme of "Integrated Security Solutions for Public Safety", leveraging on NEC's multi-modal biometrics and surveillance technologies, NEC will be presenting various exhibits based on four concepts - Civil and Criminal Investigation Systems; Multi-Modal Biometrics Access Control Management Systems; Mobile Screening and Verification Systems; and Data & Network Security Protection Solutions.

NEC, a leader in biometrics technologies, has been developing cutting-edge and world-class integrated security solutions and technologies, including multi-biometric identification, access gates, video surveillance and behavior pattern analysis. NEC's fingerprint and facial recognition solutions are recognized as the world's fastest and most accurate biometric technologies for identification.

NEC's exhibits at the 3-day GovernmentWare 2010 event showcase NEC's avant-garde multi-biometric identification solutions set in different applications, ranging from civil identification and investigation systems to mobile screening and verifications systems through handheld devices. NEC is also showcasing a Layer-2 technology based Network Encryptor for the first time in Singapore, a cost-effective data security equipment for Ethernet links up to 1Gbps against threats.

"Leveraging on NEC's innovative and superior technologies in integrated security solutions, NEC APAC has been delivering the best-of-breed solutions to our customers locally and in this region, to enhance the safety and security of their countries or their businesses. NEC's newly established Regional Competency Centre for Public Safety (RCC-PS) in Singapore has an experienced and dedicated team with the in-depth knowledge and expertise to serve the needs of both the local and regional public safety market." added Tan Boon Chin, Managing Director (RCC-PS), and Senior Vice President (Government Solutions), NEC APAC.

Since the late 1980s, NEC APAC has been steadily growing its capabilities for its public safety business and establishing its foothold in the public sector in Singapore. From the world's first border control gate with Smart Card in Singapore's Changi Airport [Immigration Automated Clearance System (IACS)] in 1996, to the Biometric Identification for Motorbikes (BIKES) at the land-checkpoints, NEC APAC has been providing several border control solutions to protect and manage the flow of human traffic at the borders of Singapore.

According to Acuity Market Intelligence [1], the global market for biometrics core technology is currently valued at US$2.58billon, and this is expected to swell to US$11billion by 2017. Global events such as terrorist attacks on World Trade Center in the U.S. on Sept 11, have catalyzed governments around the world to review their national needs to improve and raise the standards for civilian identification. Asia, home to more than two billion people in China and India, has become an increasingly important market for public safety solutions providers. The Asia Pacific region is expected to generate the greatest percent of revenues for the biometrics industry, with more than 32% of global revenues by 2017, and market dominance for such solutions and services is anticipated to shift from Europe and the US to Asia.


###

[1] Source: "The Future of Biometrics 2009: Biometrics Buck the Global Economic Meltdown; Industry Poised for Sustained Growth Reaching Nearly $11 Billion in Annual Revenues by 2017" (
http://acuity-mi.com/Future_of_Biometrics.html
)
About NEC Corporation
NEC Corporation is a leader in the integration of IT and network technologies that benefit businesses and people around the world. By providing a combination of products and solutions that cross utilize the company's experience and global resources, NEC's advanced technologies meet the complex and ever-changing needs of its customers. NEC brings more than 100 years of expertise in technological innovation to empower people, businesses and society. For more information, visit NEC at
http://www.nec.com
.

About NEC Asia Pacific Pte Ltd
NEC Asia Pacific, a wholly owned subsidiary of NEC Corporation (HQ: Japan) based in Singapore, is NEC's regional headquarters for Asia Pacific, providing regional sales and services support and consultancy for world-class identity solutions, enterprise turnkey implementation of mission-critical systems, project management, business process outsourcing and maintenance services in South and Southeast Asia, and Oceania.
NEC provides an extensive portfolio of solutions and services integrating the best-of-breed technologies available for the government, financial, retail and hospitality, telecommunications, manufacturing and other business verticals. Being a leading global technology provider and systems integrator, NEC creates solutions on global identity, RFID, enterprise server, unified communications and multimedia display, which are supported by NECare Service Centres.
In line with the NEC Group Vision to realize an information society friendly to humans and the earth, NEC also embarks on corporate social responsibilities (CSR) initiatives to support and "make a difference" to the Nature (environment), Education and Community. For more information, please visit
www.nec.com.sg
NEC is a registered trademark of NEC Corporation. All Rights Reserved. Other product or service marks mentioned herein are the trademarks of their respective owners. ©2010 NEC Corporation.
PRESS CONTACTS:
Masako Hirano
NEC Asia Pacific Pte Ltd
+65 6379 2570
M-Hirano@NEC.com.sg
Eliza Lim
NEC Asia Pacific Pte Ltd
+65 6379 2571
eliza_lim@nec.com.sg
---