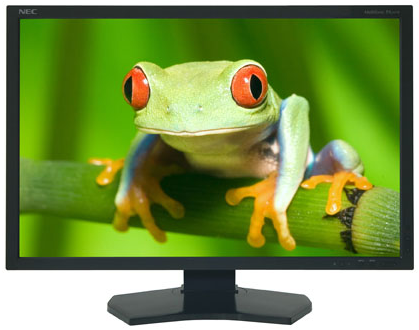 NEC PA241W (24") Monitor
Singapore, 6 April 2010 – With the MultiSync PA241W LC monitor, NEC Asia Pacific is unveiling the first model in its new PA series. The range, which features high-performance 10-bit P-IPS* panels, is ideal for all professional applications where colour, image detail and productivity matters. Consistent with NEC's "Green Vision" campaign, the production, transport and operation of these displays has been planned from the start to be environmentally responsible and respectful.

The PA241W display has been developed especially for users who gain maximum benefit from a wide colour gamut, high colour consistency and work with multiple PC platforms – such as those who work in creative photographic and design professions, the medical sector or with high-precision industrial applications. NEC Asia Pacific continues to invest in IPS technology, which at 178 degrees, offers the greatest viewing angle stability of all LC display technologies and ensures outstanding colour reproduction. The PA241W also features a 3D, 14-bit LUT** for precise colour control and colour space emulation as well as a 10-bit panel for getting the most out of the wide colour gamut capability. Further highlights include the picture-in-picture function, the ambient light sensor and future-proof connectivity options such as DisplayPort and integrated programmable USB interface (DisplaySync Pro).

The NEC MultiSync PA241W employs an innovative design – from as much a visual as an ecological perspective. With its ultra-narrow display frame, it forms a natural part of any aesthetically pleasing workplace. The optimised stand offers enhanced stability, intuitive cable management and also allows for highly efficient product packaging. Shipping in Eco mode, the built-in carbon savings meter calculates and totals the amount of CO2 saved through energy efficient working. The TCO 5.0 certificate awarded to the MultiSync PA241W is testimony to the efforts made by NEC to meet strict ecological, ergonomic and energy requirements.

"The MultiSync PA241W unambiguously asserts NEC's claim to set the reference within the professional desktop sector" says Vincent Koh, Vice President, Multimedia Platform Unit at NEC Asia Pacific. "Our engineers have managed to combine a remarkable number of outstanding features offering uncompromising performance, while at the same time respecting our environmental commitments."

*P-IPS = Performance In-Plane Switching, **LUT = Look-up table

Availability and Warranty

The NEC MultiSync PA241W Monitor is commercially available now. NEC Asia Pacific offers a 3 years warranty for the device.

NEC PA241W Monitor S$2,099.00 (price quoted include GST)


###


About NEC Corporation
NEC Corporation has devoted more than 100 years of technological innovation to serving people around the world. The NEC Group's concept of a "C&C Cloud" integrates Computers with Communications and provides services that contribute to the advancement of society, individuals and business. NEC combines IT and network technologies to deploy solutions with the scalability, capability and affordability to meet the complex and ever-changing needs of business and to empower society. For additional information, please visit the NEC website at:
http://www.nec.com
.

About NEC Asia Pacific Pte Ltd
NEC Asia Pacific, a wholly owned subsidiary of NEC Corporation (HQ: Japan) based in Singapore, is NEC's regional headquarters for Asia Pacific, providing regional sales and services support and consultancy for world-class identity solutions, enterprise turnkey implementation of mission-critical systems, project management, business process outsourcing and maintenance services in South and Southeast Asia, and Oceania.
NEC provides an extensive portfolio of solutions and services integrating the best-of-breed technologies available for the government, financial, retail and hospitality, telecommunications, manufacturing and other business verticals. Being a leading global technology provider and systems integrator, NEC creates solutions on global identity, RFID, enterprise server, unified communications and multimedia display, which are supported by NECare Service Centres.
In line with the NEC Group Vision to realize an information society friendly to humans and the earth, NEC also embarks on corporate social responsibilities (CSR) initiatives to support and "make a difference" to the Nature (environment), Education and Community. For more information, please visit
www.nec.com.sg
NEC is a registered trademark of NEC Corporation. All Rights Reserved. Other product or service marks mentioned herein are the trademarks of their respective owners. ©2010 NEC Corporation.
PRESS CONTACTS:
Product enquiries:
Pamela Leong
NEC Asia Pacific Pte Ltd
+65 6379 2340
leongck@nec.com.sg
General enquiries:
Eliza Lim
NEC Asia Pacific Pte Ltd
+65 6379 2571
eliza_lim@nec.com.sg
---