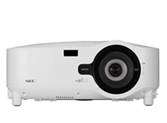 NEC NP1200 PROJECTOR
SINGAPORE, 7 January 2010 – NEC Asia announced today the NP3200, NP2200 and NP1200 professional installation projectors, which are designed for demanding integration projects. These powerful NP Installation Series models are intended to meet the needs of those users who require bright light output for large screens, at an affordable price.

The NP3200 displays a high level of brightness at 5000 ANSI Lumens as for the NP2200 the brightness is at 4200 ANSI lumens, and the NP1200 has an output of 3700 lumens, making the three projectors very bright and suitable for corporate and higher education environments. These models are energy-efficient and consume a low 0.5W rating in standby mode by utilizing ECO Mode technology to save energy and consume less power. Energy savings can be documented via the integrated carbon savings meter, which is encouraged by an optional message at startup. Additionally, users can easily switch between settings through a green ECO Mode button on the remote control.

To provide maximum flexibility for installers, the three projectors utilize optional bayonet style lenses (5) for quick and easy exchange. The array of optional lenses supports screen sizes from 30- to 500-inches at projection distances between 0.7m and 74.4m. The vertical and horizontal lens shift feature allows flexible projector placement to suit a variety of installation locations in a room. The three projectors have flexible input/output signal capabilities, including connectors for VGA, DVI-D with HDCP, 5-BNC, multiple audio in/out and RJ45 network control. Virtual Remote (DDC/CI) allows users to control the projector directly from a computer without the need for additional control cables.

"The NP3200, NP2200 and NP1200 achieve outstanding performance for a variety of settings at an affordable price," said Vincent Koh, Vice President for projectors at NEC Asia. "These NP Installation Series models offer advanced technologies, like remote monitoring, that provide flexibility and unbeatable total cost of ownership."

In ECO Mode, the NP3200, NP2200 and NP1200 can achieve up to 3000 hours of lamp life and decreased fan noise enabling fewer distractions and increased focus on presentations. The quick start and shutdown technology allows start up within five seconds and enables immediate power off with no cooling required after shutdown. Several security features on the NP3200, NP2200 and NP1200 prevent unwanted tampering, which is especially useful in education settings. Security features include keypad and Kensington locks, the ability to deactivate buttons on the cabinet to prevent unwanted changes and a password protection mode that restricts unauthorized use.

A partial list of features for the NP3200, NP2200 and NP1200 includes:
1024 x 768 native resolution (XGA)
600:1 contrast ratio
Up to 5000 ANSI lumens
Variety of optional bayonet-style lenses, which provide flexibility in throw ratio, projection distance and projection angle
Closed captioning
10-watt stereo speakers
AutoSense, which automatically syncs the projector with any computer signal and enables one-touch image optimization
Integrated RJ45 connection, which enables quick and easy LAN connection for control and monitoring
Remote diagnostics, which enable the administrator to monitor and make adjustments to the projector via the network from a remote location
---
The NP3200, NP2200 and NP1200 will begin shipping in January 2010. The projectors ship with a standard two-year limited warranty.

Price of Projector as per below.
NP1200 Projector $2,899.00
NP2200 Projector $3,499.00
NP3200 Projector $4,999.00 (Price quoted include GST)

Further information can be found on the internet at http://www.nec-display.com/ap/.


-End-

About NEC Asia Pte Ltd
NEC Asia, a wholly owned subsidiary of NEC Corporation based in Singapore, is a leading information technology services provider that specialises in systems integration and consultancy services. Being conferred the Singapore Economic Development Board's International Headquarters (IHQ) Award, NEC Asia, as NEC's regional headquarters in Asia Pacific, provides regional sales and services support for world-class identity solutions, turnkey implementation of mission-critical solutions, project management and maintenance services.
NEC's suite of solutions and services encompass systems integration, global identity solutions, RFID solutions, financial solutions, retail management solutions, enterprise servers, telecommunications and network solutions, multimedia products, managed services and outsourcing centre (MSOC), manufacturing business solutions, ERP, imaging and workflow solutions, enterprise portals and NECare Service Centre. NEC Asia also provides business support functions in purchasing, public relations, finance, human resources and corporate social responsibilities (CSR) to the regional NEC subsidiaries. For more information, please visit
www.nec.com.sg
NEC is a registered trademark of NEC Corporation. All Rights Reserved. Other product or service marks mentioned herein are the trademarks of their respective owners. (C)2009 NEC Corporation.
---