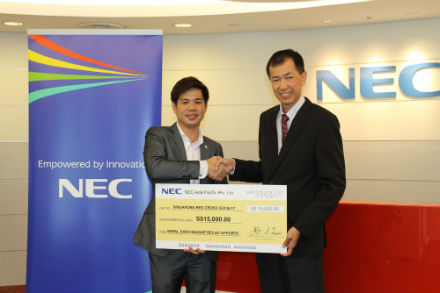 Mr Lim Kok Quee, NEC Asia Pacific, Managing Director presents the cheque to Mr Chris Tan, Head of Fundraising, Singapore Red Cross Society
Singapore, 2 June 2015 – NEC Asia Pacific, a leading infocomm technology provider has donated SGD15,000 to the Singapore Red Cross (SRC) to help in the relief and recovery efforts for people affected by the Nepal earthquake. The cheque was presented to SRC on 28 May 2015.
A total of SGD15,000 was donated by NEC Asia Pacific. Employees combined efforts to raise SGD9,340 as part of the NEC Make-a-Difference Drive (MDD), with NEC Asia Pacific contributing the remaining amount.
"We are very grateful to NEC Asia Pacific and their staff for coming forward to raise funds for the Nepal Earthquake Relief Fund. The survivors of this devastating disaster will face a long road to recovery. The funds collected from this appeal will enable the Singapore Red Cross to help in the on-going relief efforts and just as importantly in the rebuilding and rehabilitation efforts in the affected communities," said Mr Benjamin William, Secretary General, Singapore Red Cross.
"We hope that our contribution would assist in bringing relief and comfort to those affected by the earthquake in Nepal. As responsible corporate citizens, we would like to do our part to extend a helping hand where we are able to. We would like to extend our heartfelt condolences to those who were affected by the earthquake, and express our hope to see recovery and rehabilitation to affected areas," said Mr Lim Kok Quee, Managing Director, NEC Asia Pacific.
Note:
(*) NEC Make-a-Difference Drive (MDD) is a volunteer activity that NEC Group employees worldwide participate in.
***
About NEC Asia Pacific Pte Ltd
Singapore-based NEC Asia Pacific is the regional headquarters for NEC Corporation (HQ: Japan) in the Asia Pacific region (South and Southeast Asia, and Oceania). As a leading infocomm technology provider and systems integrator offering regional sales and services support and consultancy, NEC APAC develops solutions on carrier network, global identity, RFID, enterprise server, unified communications, multimedia display, and contact centre, as well as provide outsourcing and managed services.
To leverage on its technological expertise, NEC APAC has established regional competency centres for public safety and display solutions to expand its capabilities and expertise to support businesses in the Asia Pacific region.
In line with the NEC Group Vision to realize an information society friendly to humans and the earth, NEC embarks on corporate social responsibilities initiatives to support the Nature (environment), Education and Community. For more information, please visit www.nec.com.sg.