Thin Client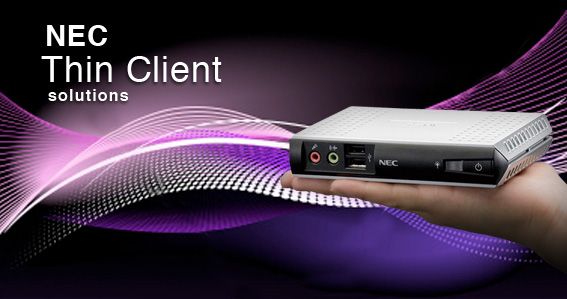 US110c
The US110c is a Microsoft Windows CE-based thin client and boots up in second.

This device provides rich PC-quality high-speed video and audio processing propelling virtual desktop technology into the next-generation of functionality.The US110c features a separate graphic accelerator for unparalleled performance in its class. The ultra low power media system processor delivers rich multimedia and video playback.

With no moving parts, the US110c is capable of delivering a long service life-span of between 5-7 years. its low consumption contributes to save energy costs.
US300c
The US300c is a powerful thin client based on Microsoft Windows Embedded Standard 2009 (WES) for a rich remote experience. With a 1Ghz processor, Gigabit Ethernet and extended connectivity, it ensures an optimal use for any application and offers better compatibility with peripheral devices. Compatible with a centralized environment (server-based computing) or virtualized (virtual desktop and NEC Virtual PC Center), it is a powerful multi-display solution.

Dual screen display and 802.11b/g/n wireless network
Fast communication with Gigabit LAN
Excellent communication with 4 USB ports
Increased Security with no locally stored data
Low power consumption