How Virtual PC Center Works?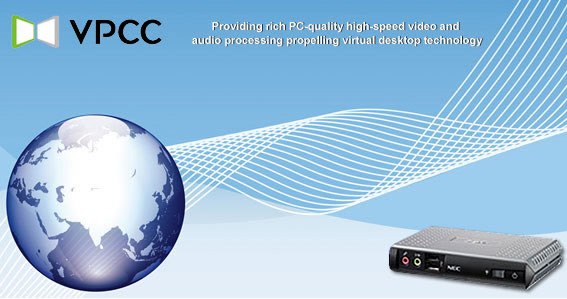 The Virtual PC Center solution includes the following components:
US100c / US300c Thin Clients
Virtual PC Server (virtualized by VMware)
VPCC Management Server
SV7000 VoIP Server
US100c / US300c Thin Clients
US100c / US 300c Thin Clients are able to provide rich PC-quality high-speed video and audio processing propelling virtual desktop technology. These Thin Clients incorporate leading-edge technologies from NEC and ServerEngines™ LLC

Virtual PC Server (virtualized by VMware)
The NEC Virtual PC Server is an appliance server designed to run virtual PCs on the Windows operating system. Each Virtual PC Server is virtualized by VMware Virtual Desktop Infrastructure (VDI) client sessions and managed through the NEC SigmaSystemCenter™ virtual PC management software tools. All NEC VPCC servers are open configurations allowing customers full access to all the features of VMware® VDI and SigmaSystemCenter, as well as the ability to integrate third-party solutions.

VPCC Management Server
The NEC Express5800/VPCC Management Server provides centralized management over the entire VPCC system in an integrated manner. It includes an easy-to-use interface to manage PC user session creation and monitoring, server utilization profiling, system policies, security, expandability, auditing, account management, deployment functionality, client brokering and more.

SV7000 VoIP Server
The UNIVERGE SV7000 Telephony Server is designed to empower your business and make your network a more productive asset to your organization.
The SV7000 offers the full complement of NEC telephony features and applications while utilizing NEC's broad range of IP phone sets.