Why Choose NEC Virtual PC Center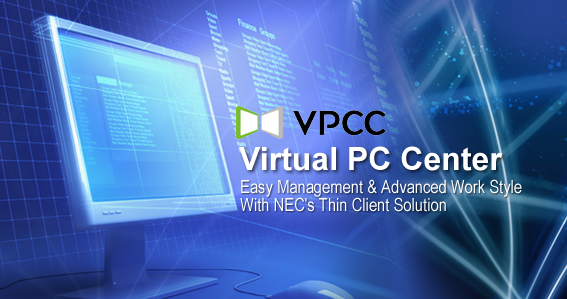 Full function Windows PC for business
Virtual PC Center is a new generation thin client system that allows for full-scale migration of an existing business. Thin client system NEC Virtual PC Center operates in the same way as a traditional desktop PC, enabling the user to access all typical desktop PC applications including multimedia functionality.

VoIP Telephones On Thin Clients
Thin client system NEC Virtual PC Center allows users to access high-quality real-time communication tools. By processing voice and image on the thin client side, it delivers stable communications even when the virtual PC on the server is under heavy load.

Easy management & operation
The administrator uses an administration console from which he or she manages the virtualized server and the client configuration.
Centralizing the administration improves productivity thereby reducing the Total Cost of Ownership (TCO) by around 25% over just three years.

More secure corporate data
Standard laptops and desktop PCs carry confidential corporate information, which can pose a serious business risk in the wrong hands. With NEC thin client system Virtual PC Center, no information whatsoever is stored on the laptop or desktop because all the files and applications reside securely in the data center.

More Efficient PC Maintenance and Support
PC virtualization provides for better backup, easy PC system updates and maintenance, higher up-time, better security control and virus protection, along with other efficiencies giving the end-user a higher quality of service than what a standalone PC can provide. Single source vendor-NEC The entire VPCC solution is available through one vendor-NEC. You now have a single point of contact for support, maintenance, and troubleshooting!