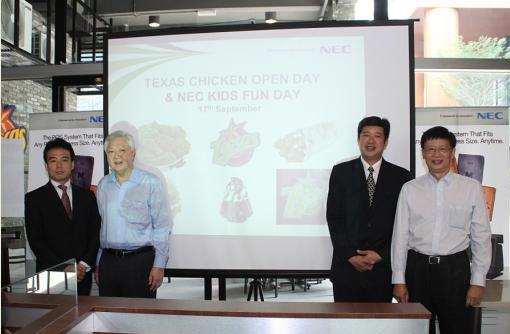 From left to right: Akira Yoshimura, Retail & JOC Division Director of NEC Malaysia, Dato' Kamal Tan, Group Chief Executive Officer of Etika International Holdings, Andrew Lee, Managing Director of NEC Malaysia and Ng Su Onn, Managing Director of Texas Chicken Malaysia

Kuala Lumpur, October 10, 2013 – Texas Chicken® Malaysia selected NEC Corporation of Malaysia Sdn. Bhd. (NEC Malaysia), to provide a retail solutions system for their recently opened branch at Empire Damansara.

Texas Chicken® Malaysia's first restaurant in Malaysia opened at Aeon Bukit Tinggi earlier this year and included NEC retail solutions. Since then, Texas Chicken® Malaysia has continued to expand with subsequent installations at four other branches in the span of six months. Today, it opened its 6th branch. Texas Chicken® Malaysia plans to grow with the opening of 80 branches within 10 years in Malaysia.

NEC Malaysia installed systems comprising of NEC Twin Point-of-Sale (POS) models, G5 & G7 and Quick Service Restaurant (QSR) POS software for Texas Chicken® Malaysia. These retail solutions systems provide centralized file management, up-to-date reports, inventories and recipe management to support daily operations. The systems also allow access to the latest promotion and pricing at all the Texas Chicken® Malaysia branches.

Mr. Dato' Kamal Tan, Chief Executive Officer, Etika International Holdings said, "We are pleased to have NEC as our local business partner to support our rapid growth with their POS systems and outstanding service network in Malaysia."

"We are very pleased to celebrate the successful installation of the NEC retail solutions system with the opening of Texas Chicken Malaysia's sixth branch. NEC Malaysia holds extensive knowledge of retail and businesses solutions. NEC's "Regional Retail Business Support Center (RBSC)" will also support us in providing solutions that tailor to the needs of Texas Chicken in Malaysia. We hope to continue collaborating with both Texas Chicken Malaysia and the Etika Group by providing them the best solutions and outstanding support," NEC Malaysia, Managing Director, Andrew Lee stated.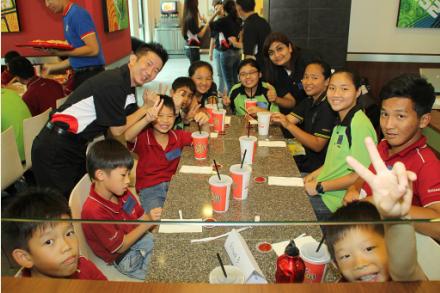 NEC Malaysia Employees with the Yayasan Sunbeam children

In addition, NEC Malaysia and Texas Chicken® Malaysia had invited the children from Yayasan Sunbeam to celebrate the occasion. A total of 30 NEC Malaysia employees came together with the Texas Chicken® Malaysia team to host games and distribute giveaways at the event. 60 children from Yayasan Sunbeam enjoyed the games and chicken sponsored by NEC Malaysia and Texas Chicken® Malaysia as part of their Corporate Social Responsibility (CSR) activities.


###

About Texas Chicken
Texas Chicken is a highly recognized brand name in the Quick Service Restaurant sector and is one of the largest quick-service chicken concepts in the world. Today, Texas Chicken consists of more than 1,700 restaurants worldwide in 23 countries, with system sales approaching $1.3 billion. For more information, visit:
http://www.texaschickenmalaysia.com
.
About NEC Corporation of Malaysia Sdn. Bhd
Originally established as NEC Malaysia Sdn Bhd in March 1988, NEC Corporation of Malaysia Sdn. Bhd ("NEC Corp Malaysia") is a total solutions provider for a comprehensive range of NEC's IT, networking and telecommunications, and display technologies in Malaysia. By combining NEC's and other third-party hardware and software to deliver a competitive edge to its clients, NEC Corp Malaysia also provides a wide range of systems integration solutions, business process analysis and system design, technical expertise, implementation and training, and support services through its NECare Support Center that provides comprehensive services nationwide, 24/7. Visit us at:
http://my.nec.com
/.
About NEC Asia Pacific Pte Ltd (NEC APAC)
Singapore-based NEC Asia Pacific is the regional headquarters for NEC Corporation (HQ: Japan) in the Asia Pacific region (South and Southeast Asia, and Oceania). As a leading infocomm technology provider and systems integrator offering regional sales and services support and consultancy, NEC APAC develops solutions on carrier network, global identity, RFID, enterprise server, unified communications, multimedia display, and contact centre, as well as provides outsourcing and managed services.
To leverage on its technological expertise in the field of public safety, NEC APAC has established a regional competency centre (public safety) to expand its capabilities and expertise to support businesses in the Asia Pacific region.
In line with the NEC Group Vision to realize an information society friendly to humans and the earth, NEC also embarks on corporate social responsibilities (CSR) initiatives to support and "make a difference" to the Nature (environment), Education and Community. For more information, please visit
www.nec.com.sg
NEC is a registered trademark of NEC Corporation. All Rights Reserved. Other product or service marks mentioned herein are the trademarks of their respective owners. ©2013 NEC Corporation.
PRESS CONTACTS:
Texas Chicken
Foon Tham
Tel: +603-7781 2223
Email: foon.tham@texaschickenmalaysia.com
NEC Asia Pacific Pte Ltd (NEC APAC)
Masako Hirano
Tel: +65 6379 2570
Email: m-hirano@nec.com.sg