Singapore, 1 December, 2015 – NEC Asia Pacific has launched a new generation of M Series short-throw projectors that foster deep collaboration among users.
NEC new short-throw projectors are among the M3 Series lineup of ultra-durable, filter free design offering very low cost of ownership (TCO) and advanced multimedia features, and upgraded with advanced networking capabilities which support 5GHz wireless band and enable multiple connection for simultaneous display from PC, MAC or mobile devices.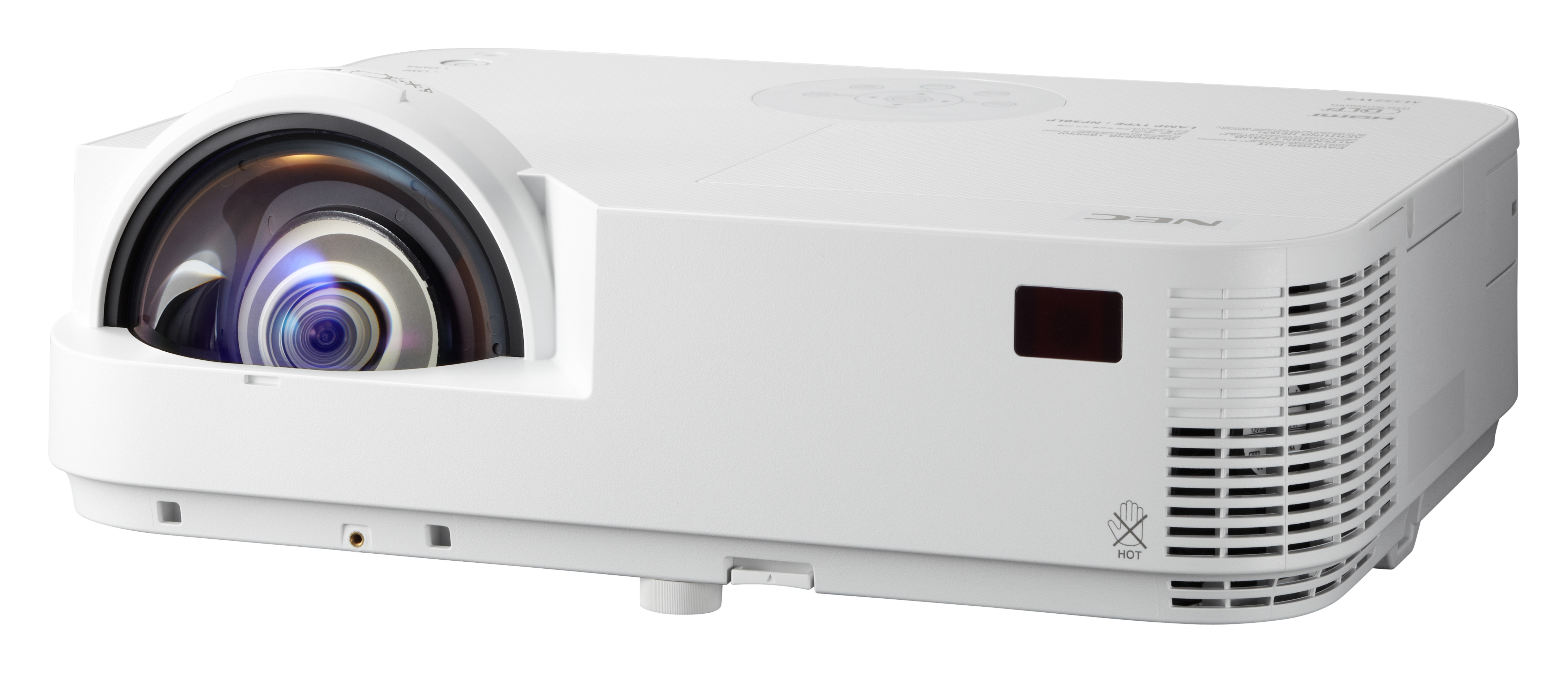 Together with clear picture and full connectivity, the M3 Series short-throw projectors can project large 80-inch images from a short distance of 77 cm which is ideal for use in classroom and mid-sized meeting room environments. For schools and businesses where budget and performance are equally important, the new M3 Series short-throw projectors achieve very low TCO thanks to the projectors' filter free design with sealed DLP light engine. Whilst other projectors' dust filters have to be regularly cleaned, the sealed design of the M3 Series means no dust can collect on the DLP chip, which keeps maintenance low. Perfect for intensive operating conditions, the DLP chip also enables longer operating hours without color decay that can occur on LCD based projectors.
In addition the projectors boast a number of innovative ECO functions not only reducing power consumption but also keeping the optimum projection power in combination with integrated ambient light sensor, constant brightness mode and auto dimming features. These features make the projectors both a cost-friendly and environmentally sustainable choice for schools and businesses, in line with NEC's environment-friendly policy.
Advanced connectivity is offered through an integrated Simple Access Point function, which enables multiple devices to connect to the projector without the need for an additional router. This allows users to send content and audio wirelessly from their notebook, tablet or smartphone using NEC's free Image Express Utility Lite (Windows and MAC) or Wireless Image Utility (iOS and Android). The new M3 Series adds Multi-screen Projection function to allow sharing screens from multiple devices on various split-screen displays. Display contents from up to 16 network connected devices can be projected on the same screen.
A large number of input terminals including 2 x HDMI with 3D support and 2 x USB inputs provide flexibility and future proof investments made by businesses and schools. For example it allows users to deliver presentations and send an image or video from a USB drive without the need for a PC. Plus, by connecting a microphone directly to the projectors via the microphone jack for the high-power 20W speaker, users no longer have to rely on an external amplifier.
The M3 Series short-throw projectors are variable among three types by brightness and resolution; M333XS of XGA 3300-lumen, M303WS of WXGA 3000-lumen, and M353WS of WXGA 3500-lumen. Those include the following features:
DLP sealed engine and filter-less design
Advanced ECO mode with built-in ambient light sensor and carbon saving meter
BrilliantColor™ color adjustment
DICOM simulation mode
Automatic vertical keystone correction
Geometric correction and 3D Reform function
Powerful integrated 20W speaker
Direct power OFF/ON
Built-in Simple Access Point for direct wireless connection
Dual HDMI inputs, USB display and USB viewer
Crestron RoomView ™ for emergency notification
NaViSet Administrator2 for centralized control
Image Express Utility Lite and Wireless Image Utility for wireless multi-screen display
DLP 3D Ready
The M series ship with a two-years limited parts and labour warranty, and are available now at an estimated street price as per below.
M333XS projector @ $1,389
M303WS projector@ $1,429
M353WS projector @ $1,699
For more information, please visit www.nec-display.com/ap/.
***
About NEC Asia Pacific Pte Ltd
Singapore-based NEC Asia Pacific (NEC APAC) is the regional headquarters for NEC Corporation (HQ: Japan) in the Asia Pacific region (South and Southeast Asia and Oceania). As a leading infocommunications technology provider, NEC APAC provides innovative solutions and infrastructure to enhance the quality of life for citizens and the community. NEC APAC's expertise includes solutions for carrier networks, biometric identification, enterprise applications and infrastructure, unified communications, multimedia displays and smart energy, as well as the provision of managed services and contact centre services regionally.
Our regional competency centres, together with our research laboratories, provide cutting-edge public safety and cybersecurity technologies and solutions to enable safer cities, with a vision to create a brighter future. For more information, please visit http://sg.nec.com.
NEC is a registered trademark of NEC Corporation. All Rights Reserved. Other product or service marks mentioned herein are the trademarks of their respective owners. ©2015 NEC Corporation.
Press Contacts

NEC Asia Pacific
Product
Ms. Pamela Leong
+65 6379 2340
Editorial
Masako Hirano
+65 6379 2570
+65 9018 6652