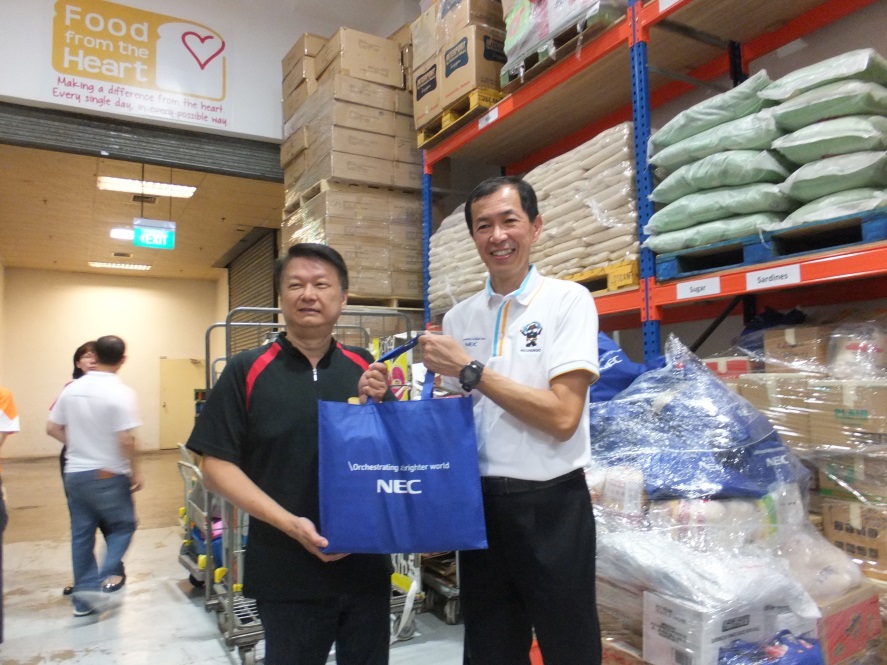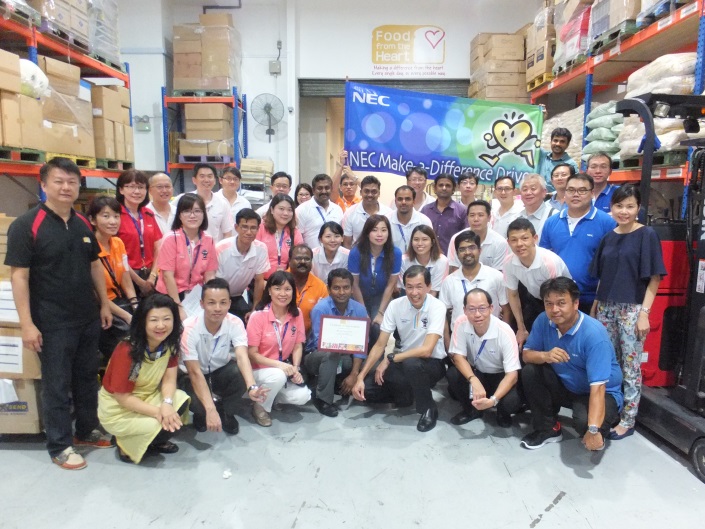 (Left photo) Mr. Lim Kok Quee, Managing Director and Deputy CEO (ASEAN Sub-Region) of NEC Asia Pacific (right) presenting a corporate gift to Mr. Anson Quek, Executive Director of FFTH (left).
(Right photo) NEC Asia Pacific employees and members from FFTH.
Singapore, 24 August 2016 - NEC Asia Pacific recently held its "NEC Make-a-Difference-Drive*" food donation drive from 4-15 July 2016, which saw employees generously donating food items to Food from the Heart (FFTH), a non-profit charity in Singapore. The food items were delivered on 4 August 2016 to FFTH.
NEC employees donated over 900 items, including rice, cooking oil, canned foods and other food items. As a sign of strong support for a good cause, volunteers consisting of 38 employees in 15 cars led by Mr. Lim Kok Quee, Managing Director and Deputy CEO (ASEAN Sub-Region) of NEC Asia Pacific, took the initiative to personally deliver the food to the FFTH warehouse.
More than 1,800 families registered with FFTH will benefit from the food items donated.
"As a charity that does not receive regular funding from the government, we rely solely on private donations and the help of volunteers to support our 25,000 beneficiaries. We are extremely grateful to have the continued support of NEC and we thank all their staff for their generosity and time," said Mr. Anson Quek, Executive Director, Food from the Heart.
"We are delighted to continue our partnership with FFTH again this year in organizing the food donation drive to give a helping hand to the community. It is a meaningful activity for our employees and we hope to continue and to make a difference in the lives of those that need it the most," said Mr. Lim Kok Quee.
***
Note:
(*) NEC Make-a-Difference Drive (MDD)
http://www.nec.com/en/global/community/social/mdd.html
The NEC MDD started in 1999, coinciding with the 100th anniversary of the establishment of NEC, as an initiative in regional community contribution activities with NEC Group members volunteering under the slogan "Making a Better Difference. Think Globally, Act Locally". The objective of the NEC MDD is to contribute to solving problems in local communities, to foster a sociocentric corporate mentality, and to enhance corporate value by making regional contributions through community activities in various parts of the world.
***
About NEC Asia Pacific Pte Ltd
Singapore-based NEC Asia Pacific is the regional headquarters for NEC Corporation (HQ: Japan) in the Asia Pacific region (South and Southeast Asia, and Oceania). As a leading infocomm technology provider and systems integrator offering regional sales and services support and consultancy, NEC APAC develops solutions on carrier network, global identity, RFID, enterprise server, unified communications, multimedia display, and contact centre, as well as provide outsourcing and managed services.
To leverage on its technological expertise, NEC APAC has established regional competency centres for public safety and display solutions to expand its capabilities and expertise to support businesses in the Asia Pacific region.
In line with the NEC Group Vision to realize an information society friendly to humans and the earth, NEC embarks on corporate social responsibilities initiatives to support the Nature (environment), Education and Community. For more information, please visit www.nec.com.sg.
NEC is a registered trademark of NEC Corporation. All Rights Reserved. Other product or service marks mentioned herein are the trademarks of their respective owners. ©2016 NEC Corporation.
PRESS CONTACTS:
NEC Asia Pacific
Masako Hirano
+65 6379 2570
+65 9018 6652
Adeline Sim
+65 6379 2571
+65 9615 7590