NEC Asia Pacific raised $50,000 for adopted charities as part of anniversary event
Celebrating 40 years of success in Singapore with 40 fund-raising activities over 14 weeks!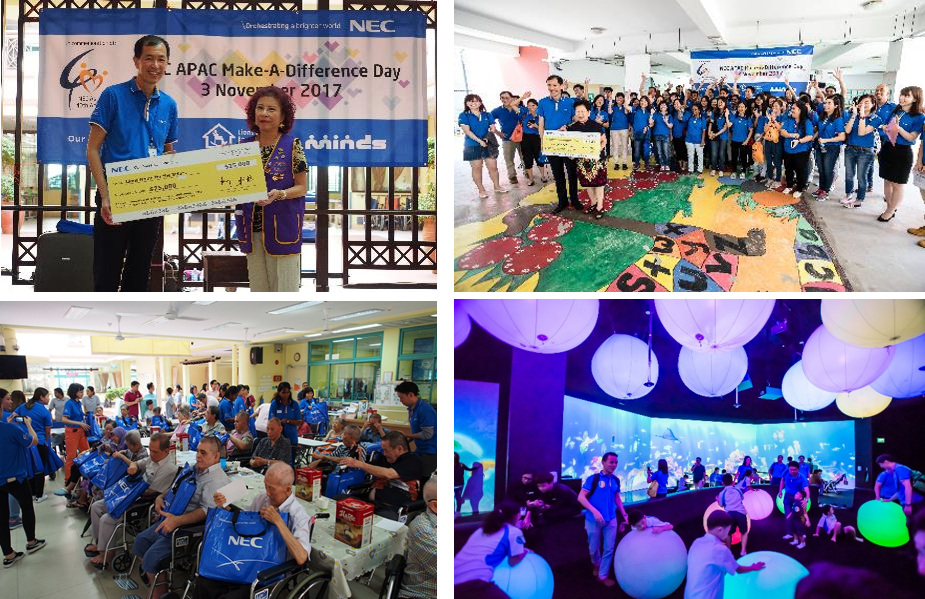 Clockwise from top left: Mr Lim Kok Quee, Managing Director and Deputy CEO (ASEAN Sub-Region) of NEC Asia Pacific and PDG Lion Isabel Cheong, Chairman, Lions Home for the Elders; Mr Lim and Mrs Chan Kwai Foong, Principal of Fernvale Gardens School; volunteers from NEC and beneficiaries enjoying activities
Singapore, 22 February 2018 – Employees from NEC Asia Pacific (NEC APAC) celebrated 40 years of its establishment in Singapore with a charity drive which consisted of 40 exciting fund raising activities over 14 weeks.
Based on the sole efforts of employees canvassing for funds within the organization, a total of $50,000 was collected from the fund raising activities.
The charities that NEC adopted as part of their 40th Anniversary celebrations are: Lions Home for the Elders (LHE) and Movement for the Intellectually Disabled for Singapore (MINDS).
Some of the fund raising activities organized include, The Biggest Loser Challenge, Movie Night, Fruit Cup, Whiskey night, Dance off, NEC Bazaar and other food related activities.
The celebration culminated on 3 November with the NEC APAC Make-A-Difference* Day, where 113 NEC APAC employees devoted their precious afternoon to spend time engaging with the beneficiaries and brought joy to them.
For Lions Home for the Elders Make-A-Difference Day programme, the NEC APAC employees planned a high tea party with entertainment like magic show, games and song performances, all of which were executed by in-house NEC talents.
For MINDS Make-A-Difference Day programme, the NEC APAC employees brought the students out to Marina Bay Sands ArtScience Museum to visit the FutureWorld exhibition.
"Your presence at Lions Home speaks volumes for NEC," Ms Doreen Lye, Chief Executive Officer, Lions Home for the Elders.
"MINDS is appreciative for the opportunity to explore the interactive art installations, which enabled the students to have fun and learn how art is being brought to life with science and technology. We are thankful towards NEC for bringing that experience to the students," said Mr Tony S Tan, CEO, MINDS.
"This is the first time that we have organized a fund raising activity in such a large scale, and I am very encouraged to see NEC employees' active participation and commitment to help those who are in need. This experience has indeed been fun and very meaningful for both the management and staff as these funds were raised mainly from staff, not from external parties. We hope that through our deeds and actions, we are able to help those who are in need lead brighter lives," Lim Kok Quee, Managing Director and Deputy CEO (ASEAN Sub-Region) of NEC Asia Pacific.
***
*NEC Make-a-Difference Drive (MDD)
http://www.nec.com/en/global/community/social/mdd.html
The NEC MDD started in 1999, coinciding with the 100th anniversary of the establishment of NEC, as an initiative in regional community contribution activities with NEC Group members volunteering under the slogan "Making a Better Difference. Think Globally, Act Locally". The objective of the NEC MDD is to contribute to solving problems in local communities, to foster a sociocentric corporate mentality, and to enhance corporate value by making regional contributions through community activities in various parts of the world.
***
About NEC Asia Pacific Pte. Ltd.
Singapore-based NEC Asia Pacific (NEC APAC) is the regional headquarters for NEC Corporation (HQ: Japan) in the Asia Pacific region (South and Southeast Asia and Oceania). As a leading information and communications technology provider, NEC APAC provides innovative solutions and infrastructure to promote safety, security and enhance the quality of life for individuals and the community. NEC APAC's expertise includes solutions for carrier networks, biometric identification, enterprise applications and infrastructure, unified communications, transportation solutions, multimedia displays and smart energy, as well as the provision of managed services and contact centre services.
Together with our research laboratories, NEC APAC provides cutting-edge public safety, cybersecurity technologies and enterprise solutions to enable safer cities, with a vision to create a brighter future. For more information, please visit http://sg.nec.com.


NEC is a registered trademark of NEC Corporation. All Rights Reserved. Other product or service marks mentioned herein are the trademarks of their respective owners. ©2018 NEC Corporation.
Press Contacts:
NEC Asia Pacific
Shinya Hashizume

+65 6379 2570

+65 9018 6652

shinya_hashizume@nec.com.sg

Adeline Sim

+65 6379 2571

+65 9615 7590