Realising a digitally inclusive society
NEC employees begin to help visually impaired individuals improve their lives
Singapore's rapidly aging population gives rise to an exponential growth in the number of elderly who will be at risk of age-related visual impairment, and the demand for support services to assist them will balloon. For this reason, the Private-Public-People (3P) partnership among NEC,

Infocomm Media Development Authority (IMDA) and

Singapore Association of the Visually Handicapped (SAVH) started to train more volunteers educate visually impared seniors how to use a smartphone.

This project is aligned with NEC's vision of Society 5.0 to build an inclusive and compassionate society by using digital technology to enable everyone to live his or her fullest potential. Through this project, we hope to use digital technology to support visually impaired or seniors to lead a more fulfilling lifestyle, allowing them to move around more freely and independently.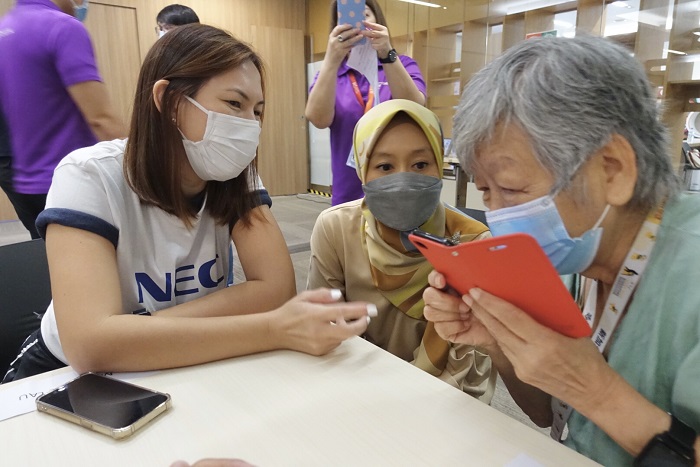 Before lanching the course
SG Digital Office provided a comprehensive framework of training for NEC staff twice weekly at NEC office and at SAVH. The training included
    1. Vision Level of The Visually Impaired
    2. Engagement Phases
    3. Common Apps' Key Skills & Cyber Security Tips
    4. Record forms and feedback collection
During the workshop, we are blindfolded in a "role-play" segment to experience the vulnerability of being visually impaired. This is especially essential to understand the visually impaired seniors better, and to deconstruct their communication to explain technology in plain language to help them overcome their psychological fear.
At the same time, we are also trained on the lesser known accessibility feature on the smart phone which is extremely useful in helping the visually impaired seniors to perform their daily tasks such as wayfinding, listening to their favorite songs, speaking and calling their loved ones.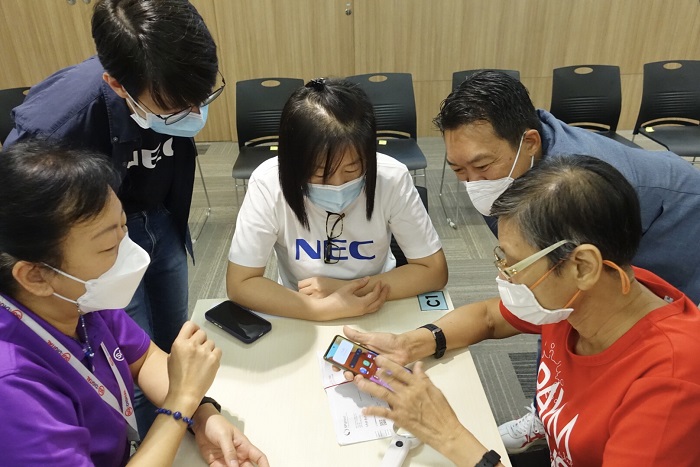 Significance of this project for NEC and me

Of course, as a member of an ICT company, NEC aims to contribute to realising a digitally inclusive society through this activity. But I have realised something more than that this time. That is we all want to connect with a larger purpose. This sense of making a difference or having an impact is a fundamental driver in all of us, because it is directly linked to our sense of self-worth – that our life matters. When personal goals and company goals aligns, staff are, more engaged and feels a purposeful sense of identity and are happier with their employer.
Personally, I have found that volunteering also improves my mental health and allows me to have a chance to add value to others, leading to purposeful living.
The biggest difficulty encountered in the process of teaching/helping is that I need to encourage myself all the time. I should stand in the perspective of the visually impaired, understand his/her vulnerability, and take innovative actions quickly to help them overcome his/her unique challenges in life.

It is my sincere hope that this event will bring new aspirations to both volunteers and the elderly/ visually impaired, so that they, in turn, will become advocates, encouraging others to embrace technology and enrich their own and the lives of others.


Dannie Lau
Regional Purchasing & Environment Manager at Regional Purchasing and Logistics
NEC Asia Pacific
Dannie is the Regional Purchasing & Environment Manager for NEC APAC. Championing NEC's global commitment to achieving United Nations' Sustainable Development Goals (SDGs), Dannie collaborates with NEC affiliate offices in the APAC region (Malaysia, Indonesia, Thailand, Philippines, Vietnam, Australia, New Zealand and India) on sustainability and value creation towards Carbon Neutrality and Climate Change objectives. She is also responsible for the local offices' compliance to the region's regulations relating to ESG. Dannie works closely with the supply chain partners to implement responsible measures to reduce the environmental burden and risk of their business activities. In her Purchasing role, she co-creates with the various offices to formulate initiatives to improve operational cash flow, Global Partner Management, procurement compliance and governance.
Dannie holds a Bachelor of Mechanical Engineering from Nanyang Technological University.


学用智能手机 视障无阻数码路 >
Published by Lianhe Zaobao on 31st May, 2022.
Sustainability in ASEAN >
NEC contributes to a sustainable world by co-creating with stakeholders to optimize ICT possibilities. See NEC's SDG activities in ASEAN.
Subscribe to our newsletter
*By subscribing, you consent to send your information to and agree to be contacted by NEC APAC via your details provided. Your information shall be used in accordance with NEC Asia Pacific Pte Ltd's Privacy Policy. Refer here for more information on how NEC Asia Pacific protects your personal data.