NEC upgrades check-in experience for visitors to JEN by Shangri-La Hotels in Singapore
Deployment of an unmanned solution at two of Shangri-La Group's Hotel JEN, a first for NEC in the region
Singapore, 22 April 2022 – NEC Asia Pacific (NEC APAC), the regional headquarters for leading information and communications technology provider NEC Corporation (HQ: Japan) in Southeast Asia, and JEN by Shangri-La Hotels have introduced a contactless check-in solution at JEN Singapore Orchardgateway and JEN Singapore Tanglin, with a common vision of bringing a more efficient, customised and connected experience to guests through technology and innovation.
In the hospitality industry which has been affected by COVID-19 worldwide, it is necessary to offer new and different value to various stakeholders. For a safe and comfortable experience in hotels, NEC's facial recognition solution offers a speedy, contactless check-in and check-out process. This reduces contact between guests and hotel staff and ensures a smooth and seamless experience for guests from the hotel lobby to their rooms.
To further enhance the guest experience, the unmanned solution deployed at standalone kiosks in both JEN hotels comes equipped with E-Visitor Authentication (EVA) capabilities (*1), which uses facial recognition technology to seamlessly verify a guest's identity and validate their stay with the Singapore Immigration & Checkpoints Authority (ICA). Once this backend process is done, a room key will be dispensed and the check-in process will be completed, all within minutes.
The face recognition technology is the core technology of "Bio-IDiom" (*2), NEC's biometric authentication brand, and features the world's most accurate precision (*3). More than half a century of NEC's expertise in biometric technology has been applied to this, and it couples recognition with real-time identification, verification and situation analysis for quick decision-making, preemptive security, and smoother services around the world.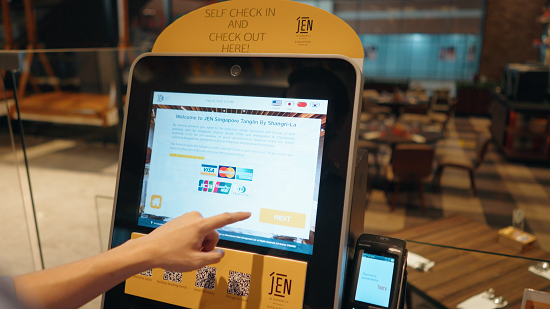 Vathsala Subramaniam, General Manager, JEN Singapore Tanglin by Shangri-La, said, "With a high-tech, high-touch service philosophy, JEN by Shangri-La are lifestyle-centric hotels that offer cutting-edge technology, so that guests can make the most out of their stay. The check-in process is a significant part of our guests' arrival experience. It presents the first impression and sets the tone of the rest of one's stay. Hence, we looked closely into this and sought intelligent hassle-free front desk solutions to enhance the check-in and check-out processes."
"Through the implementation of NEC's digital check-in kiosk, we wanted to increase our check-in capabilities and offer guests a "fast-lane" option. With the added check-in resource, we could also minimise the time guests spend waiting in queues. At the same time, it relieves the administrative workload, allowing us to focus on more meaningful interactions with our guests and providing them with memorable experiences during their stay," Allen Khoo, General Manager, JEN Singapore Orchardgateway by Shangri-La added.
Loke Siew Yeng, Vice President, Digital Business Unit, NEC APAC, said, "We are delighted and proud to deploy our smart check-in and check-out solution, and support Hotel JEN's transformation in Singapore. Customer experience, particularly now that leisure travel is making a comeback, is of paramount importance. The hospitality industry must adapt or risk being left behind. By adopting an open and collaborative partnership with Hotel JEN, we were able to co-create a solution that addresses current needs and is also scalable to address future requirements that may come."
Find out more about NEC's suite of hospitality solutions here.


Watch how the check-in and check-out process works at JEN Singapore Tanglin.
About NEC Asia Pacific Pte. Ltd.
Singapore-based NEC Asia Pacific (NEC APAC) is the regional headquarters for NEC Corporation (HQ: Japan) in the Asia Pacific region (South and Southeast Asia). As a leading information and communications technology provider, NEC APAC provides innovative solutions and infrastructure to promote safety, security and enhance the quality of life for individuals and the community. NEC APAC's expertise includes solutions for carrier networks, biometric identification, enterprise applications and infrastructure, unified communications, transportation solutions, multimedia displays and smart energy, as well as the provision of managed services and contact centre services.

Together with our research laboratories, NEC APAC provides cutting-edge public safety, cybersecurity technologies and enterprise solutions to enable safer cities, with a vision to create a brighter future. For more information, please visit https://sg.nec.com.