Displaying present location in the site.
Managed Services and Outsourcing
Extend Your Resources and Global Reach
Efficient Managed Services Will Expand Your Resources and Extend Global Reach
Every day, companies depend on uninterrupted IT operations and strategic initiatives for competitiveness. However, merely maintaining operations will not motivate business growth and opportunities, thus keeping your enterprise at a safe yet dormant level. Are you looking for change? With NEC Managed Services, we can help.

We Can Help
Our global Managed Services Team adopts a common, proven deployment methodology. NEC's Global Delivery Methodology and its processes enable our Managed Services Team to continually deliver service excellence to all our global customers. Our total solutions put you in control, empowering you to seamlessly integrate your operations, increase global visibility and ultimately grow your business worldwide.
Managed Services
A solid IT infrastructure is the first step to generate efficient growth for your business. NEC's managed services provide a trusty backing for your IT infrastructure, delivering innovation through cutting edge technology and services that are proficient at problem solving, thus developing strong motivators for your business to thrive.

Why NEC?
Our Managed Services delivery unit processes are aligned with ITIL (Information Technology Infrastructure Library) best practices. We are ISO/IEC-20000-1:2011 certified locally. The certification that we have implemented a set of integrated processes and solutions that are effective in meeting the needs of the customers and users we serve. It also proves that we are committed to continuous service improvement in the provision of Managed Desktop Services and Managed Computing Services to our customers. It goes to show that we are serious about service management and the quality of service we provide and our processes and IT Service Management system have been independently audited as such.
NEC is ISO/IEC 27001:2013 certified. It demonstrates that we have established an Information Security Management system for the provision of management and operation of infrastructure services in support of NEC IT Outsourcing Business. It proves that we are serious about IT security management.
Rest easy. NEC's End User Computing services aim to provide optimized service to support your end-users in their enterprise IT computing needs. A distributed environment coupled with ever increasing demands for higher user productivity and lower costs are driving businesses towards outsourcing this service. This is where NEC steps in to lend you a hand.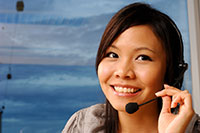 To manage a data centre that is both efficient and effective is no easy feat. The data centre is epicentre of computer systems and associated parts and the heart of any corporation – propelling the company's technical core towards the path of success.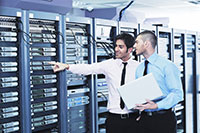 Be it a physical or virtualized infrastructures, we provide world-class data center facilities housing your critical computing, network and storage systems to ensure maximum uptime for all your IT infrastructure needs.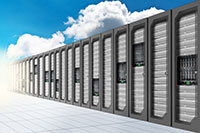 To enable our support engineers to effectively support your organization, we can bring our managed operation tools to your organization to deliver the service. With our IT Service Management (ITSM) and IT Operation Management (ITOM) tools, you can avoid upfront capital investment on hardware and software. NEC comes in with the tools working together as one seamless entity.